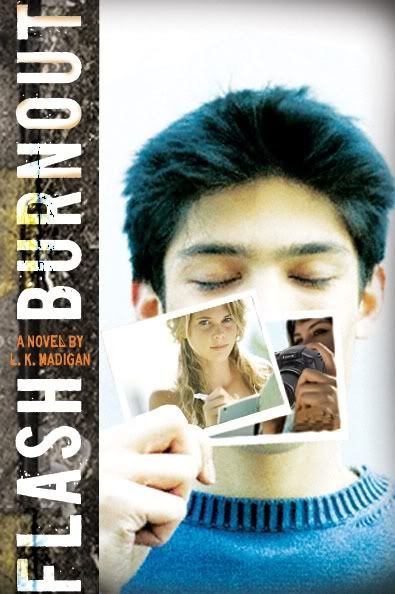 F
ifteen-year-old Blake has a girlfriend and a friend who's a girl. One of them loves him; the other one needs him. When he snapped a picture of a street person for his photography homework, Blake never dreamed that the woman in the photo was his friend Marissa's long-lost meth addicted mom. Blake's participation in the ensuing drama opens up a world of trouble, both for him and for Marissa. He spends the next few months trying to reconcile the conflicting roles of Boyfriend and Friend. His experiences range from the comic (surviving his dad's birth control talk) to the tragic (a harrowing after-hours visit to the morgue). In a tangle of life and death, love and loyalty, Blake will emerge with a more sharply defined snapshot of himself. - Goodreads
...................................................
Flash Burnout
was very disappointing for me. The storyline seemed very intriguing when I first read the book jacket at the library and the dialogue between the characters was great, but there were some things in this book I just couldn't let slip by. First though, let me start out with a few things I did like about
Flash Burnout
. Blake's passion for photography made the book different, it became a sort of unique aspect. Every chapter came with a photography tip from either a camera handbook or Blake's photography teacher which I thought was neat, and although I didn't always care for Blake's sense of humor, it gave him a strong personality that would set him apart from the other male characters.
Now for the things I did not like. First of all the "intriguing" part of the book talks about how Blake accidently finds Marissa's mother is actually eliminated within the first couple of chapters and leaves more than half of the book to go... nowhere. Marissa is also the main focal point of the story and is suppose to be Blake's "best friend"; of course you can tell there is obviously something else going on between them just from reading Blake's innermost thoughts. The question I had was where the heck was this story going? After reading exactly midway through
Flash Burnout
, the my question was answered with one of the most shocking topics I desperately try to stay away from: another distorted
adult
view on teen sex. Without going into much detail, I will just explain a few things that the reader should know before they choose to touch the cover of this not-so-fun book. I did
not
like it (nor agree) when Blake's dad told Blake that he could have sex as long as he took the right precautions. That's just like an invitation to disaster. Heck, that's
like
saying that teen sex is okay. Despite what this book might claim, despite what the media says, there is something terribly wrong when it comes down to a situation where a
parent
says to a fifteen year old boy "it's okay to have sex". To me that is just wrong. And yes, this book wasn't written by a teen author either–L. K. is an adult. I can't help but wonder if her parents told her the same thing when she was fifteen? Anyway, I would not recommend this to teens and especially not to anyone younger than fourteen. There's bad language, sexual references, and other crude behavior throughout
Flash Burnout
. Remember, just because something is promoted by adults (or even other teens) doesn't mean it's always the right thing(s) to put into your head.
You
decide.

Recommendation:
Would not recommend whatsoever; it's a bad example for teens.
Content:
Sexual references, sexual scene, crude humor, and language. If this was a movie it would have a hard time getting into the PG-13 slot. Ages 16+.
The Last Straw:
"There's not any grey areas, Blake." - Blake's dad.
Yeah, whatever. At least it wasn't promoting drugs.
...................................................
|Pages:
336|
Published:
October 2009
|Publisher:
Houghton Mifflin
|
|Genre:
Contemporary fiction
|Price:
Pbk. $7.99/ Hard. $16.99
|
|Age Group:
YA, ages 16+
|Content:
Very mature teen (PG-13 or R)
|
|Enjoyed It:
2/5
|Content:
1/5
|Cover:
4/5
|
|Overall:
2/5
|

➲ Please read before commenting:
If you disagree with my review, please do not say anything irate or downright mean. If you want to state an opposite opinion please do so in a intelligent matter–I don't mind opposing opinions, just not something that is provocative. Also, anonymous comments containing angry opinions will be deleted. Feel free to leave your blog address even, it's not like I'm going to hunt you down.

Review is copyrighted© 2010 by Books and Literature for Teens